Women's needs in Nepal have been greatly impacted by COVID-19. Sabina Pokhrel, a fervent activist and changemaker, comments on the challenges and situations that women are facing.
"We have received 6-7 calls for the rescue of women who have had abortions in this lockdown. However, abortion doesn't fall under the category of women we rescue."
This is a statement of the representative of a flight rescue service unit under the Ministry of Women, Children and Senior Citizens. In Nepal, the government runs a flight rescue service which is responsible for protecting the lives of women residing in remote areas and at risk of dying due to reproductive health problems. This story was covered in a popular national daily.
"He called me to ask for help. His girlfriend was pregnant. I gave him the free helpline number of Marie Stopes. He was reluctant to seek help from a government health service center but the one opened Marie Stopes Center at that time was too far. It was the second day of lockdown. I think he opted for buying abortion pills illegally. He did not contact me thereafter." – Participant of a webinar on 'Sexual and Reproductive Health and COVID-19- Challenges and our Role'.
These two stories depict the realities of both urban and the rural context in the country. The government issued a nationwide lockdown onMarch 24th . These measures to halt the spread of Covid-19 are affecting the access of many health services including Sexual and Reproductive Health. Health institutions have been providing only "essential health services". Though the government has stressed Sexual and Reproductive Health Services as an intrinsic part of essential health care package, the situation says otherwise.
"My recently married friend in Gorkha was denied the service of family planning. The clinic asked her to visit the health center only in emergencies and that was not the case."
With the rise in Covid-19 infections many couples are in a dilemma when accessing contraceptives. The risks of travelling from their homes to health institutions and the fear of getting infected has led many couples to decide against the use of family planning services.
The United Nations Population Fund has already projected a rise in the number of unplanned and unintended pregnancies in lower and middle income countries. We are aware of the fact that with the rise in the number of unintended pregnancies, the number of abortions will increase in similar proportions. This will put the lives of many women at risk while the resources are directed to control only Covid-19 infection. Marie Stopes Centers around the country have not opened in full capacity. The numbers of health workers who are getting infected are increasing everyday with health institutions being sealed off.
The lives of women should be at the center of the COVID-19 response mechanism. Many activists have been urging for the scaling up of self-managed abortion at times like these. Different organizations have been using social media to connect and direct people towards existing services. Innovations are necessary now more than ever. Sexual and Reproductive Health and Rights demands a greater response and attention from the government and concerned authorities!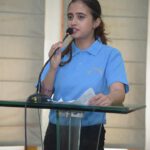 About the Author: Sabina Pokhrel is a Public Health Professional with over two years' experience in the field of advocacy of young people's sexual and reproductive health and rights. She is currently working as a Senior Program Officer in Visible Impact and engaged in the global SheDecides movement as a 25×25 young leader of Generation of Change. Sabina is interested in normalizing the narratives around SRHR through evidence-based effective advocacy.